---
Tax included.
Shipping
calculated at checkout.
Order in
0

H,

44

M,

42

Seconds
(before 3pm AEST) for same day despatch.
---
---
Product Description
HALOT-One: Latest firmware updates by connecting computer with USB cable
HALOT Slicer Box/Manual Download: <HALOT_BOX-v2.0.10.0> for MAC users、<HALOT_BOX-v2.0.10.1> for win64 computer
Creality Halot Series Resin: Budget Halot One Resin
PLEASE NOTE THAT FREE SHIPPING DOES NOT APPLY TO THIS ITEM.
HALOT Resin 3d printer packed with useful features such as 120W Power Super spotlight NEW Light Source Structure, Wi-Fi connectivity allowing for one-click firmware updates, Linux operating System and Creality New Slicer, etc. And "HALOT One" is a mini version compare to the "HALOT sky" in print size & design.

NEW Light Source Structure: 120W Power Super spotlight. The self-developed integral light source, Precision light control
High agility slicing, Creality New Slicing System: A Simplified user interface and Easy Modeling function, and supports the parameter customized
High-stability Z-axis for high-quality printing.
WIFI-APP intelligent control. Supports Creality Cloud.
OTA online upgrade: New Firmware/new system. one-click upgrade. Get better experience in firmware upgrade
Smart Operation System -Linux: 64-bit 4-core CPU+GPU Mainboard supports the faster operation and greatly improves printing efficiency.
Great Operation Experience: Linux System For a better AI Experience, a 5-inch high definition colorful touch screen keep easy works. 
Frequently asked questions:
Q: How to Upgrade Firmware Creality Halot-One?
A: Upgraded via USB Cable, video guide: https://www.youtube.com/embed/lMORkzUBB8Q
Upgraded via Wifi(OTA Upgraded), video guide: https://www.youtube.com/embed/uymYOSwZGq4
Q: why my prints are not sticking on the bed?
A: 1. Please check the bed level of the resin printer. The bed level is needed to parallel to your LCD screen otherwise it is not sticking at all. Check your offset distance between your LCD screen and the build plate, whether there is too much gap between the LCD.  Bed leveling guide: https://www.youtube.com/watch?v=yF7F0hPa1EY
2.Whether you have cleaned out your resin vats and there are bits of cured resin still stuck to the bottom chances. If not a bed leveling problem. You need to check that the base layer exposure time that you apply to the first six to eight layers of every print you run. and properly set up your bottom exposure settings.
3. Some resin can stick very quickly like the faster (with 45-50 seconds exposure time). If you use a different kind of resin/different brand resin. We recommend that you can refer to their listing out the setting of the base layer and layer exposure times.
4. The FEP sheet is too loose. Please check whether your FTP tension before messing with your raised height ( during the peeling process) or whether it needs to replace a new one.
Q: How to Upgrade Firmware Creality Halot-One?
A: Upgraded via USB Cable, video guide: https://www.youtube.com/embed/lMORkzUBB8Q
Upgraded via Wifi(OTA Upgraded), video guide: https://www.youtube.com/embed/uymYOSwZGq4
Q: What slicer software can be used for Halot resin? Can I use the Chitubox Slicer?
A: Halot Series 3D Printer only supports Halot Box and Lychee Slicer now. Halot Series Resin Printer configured with our Halot Box Slicer (Creality self-development software) and it will be constantly improved and released to our user. And you could also use the Lychee Slicer, now it is compatible. (Support Halot Series: Halot one, Halot Sky, Halot Max)
Halot one Product Reviews and Test, Halot Box Slicer & Creality Cloud reviews
Creality HALOT-ONE resin printer. What is new? Resin 3D printing? What is it and is it better than FDM?  Read More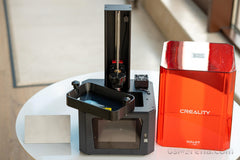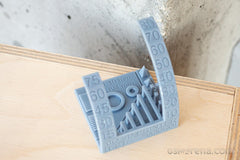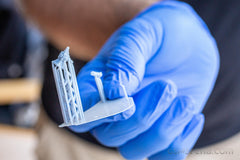 Resin Print Setting? UV Resin Recommend and Parameter Setting tips

Why order from Rising Sun FPV?
• FREE Express* shipping over $250.

• Orders ship out of Townsville, QLD, Australia at 1530.

• Active on Instagram - Tag us or DM us!

• Watch what we are up to on our YouTube Channel!

• Join our Facebook Page for updates and RSFPV news.

• GST Registered.

• Gifts with every order!

• Veteran Owned and Operated

• Defence and Service discounts - Apply Here

• 3D Printing and Custom design – Inquire Here.

• Visit us at our Store and have a yarn.

• Sponsor of Townsville FPVR, Next Level FPV

and the Australian Army Drone Racing Team.

• FPV Drone service, support and repairs.

• Earn points for every $1 spent.

• Buy now and pay later with Zippay, Afterpay, Humm and Laybuy.